News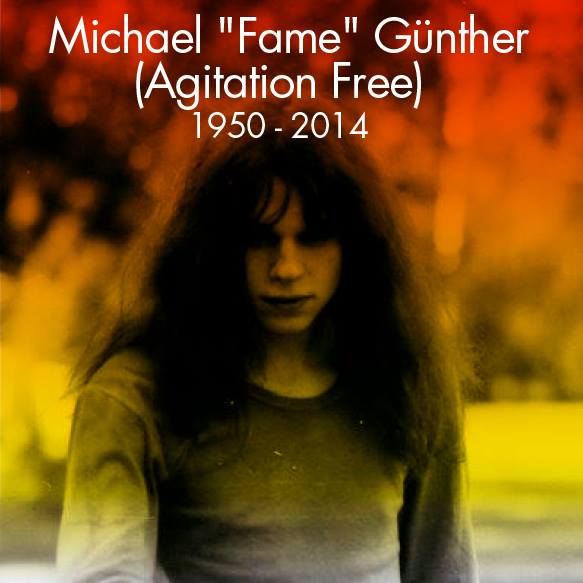 Sorry, but this post is not available in English
Agitation Free will play a live-concert on June, the 19th 2013 as part of the legendary Burg Herzberg Festival. This Festival was founded in 1968 and will take place near Breitenbach in the south of Hesse. There will be associated the Traditional Hippie Convention as well.
Agitation Free will perform (with Steve Hackett - ex-Genesis, Spin Doctors, Levellers, Garland Jeffreys and the reformed Cactus and others) on Friday, July the 19th approximately 10:30 p.m. on the mainstage of the Burg Herzberg Festival.
Friday, July 19th, 2013, approximately 10:30 p.m. - at the Mainstage of Burg Herzberg Festival,
Info & Ticket-Hotline +49 661 250 555 25, burgherzberg-festival.de/index_d.html
Agitation Free will play a live-concert on April, the 23rd as part of the Film-Festival ACHTUNG BERLIN!.
This will be the first gig in Berlin with the new Bass player Daniel "Danda" Cordes. Former-Bass player and co-founder Michael Günther has retired from the professional music business.
Tuesday, April 23rd, 2013 08:00 p.m. - at the Kesselhaus der Kulturbrauerei
Kesselhaus/Maschinenhaus, Schönhauser Allee 36, 10435 Berlin,
Tel.: +49 30 443 15 100, empfang@kesselhaus-berlin.de
More than thirty years after their Break up, "Agitation Free" free released a reunion Album titled "Shibuya Nights". On November 8, 2012, they performed at Music Hall, Worpswede.
German Northwest Radio will broadcast the entire concert  on Feb.17. 2013.
(from left: Burghard Rausch, Lutz Graf-Ulbrich, Gustl Lütjens, Daniel Cordes und Michael Hoenig) (FOTO: Charly Plinke)
The label "Krautrock" band they cannot get rid of anymore. After all, they were instrumental in the origins of the freely experimenting german rock movement of the early seventies, which earned them a solid place in the German rock history - and sustainable attention of fans in Japan, the U.S., France and Britain.
In February 2007, "Agitation Free" went on tour in Japan. The following live album "Shibuya Nights (Live In Tokyo)" was released by Esoteric Records / Cherry Red, distributed by Rough Trade in England.
Last fall keyboardist and film music specialist Michael Hoenig, drummer Burghard Rausch, guitarist Lutz Graf-Ulbrich (aka Lüül of the "17 Hippies"), guitarist Gustl Lütjens and bassist Daniel "Danda" Cordes performed at the Worpsweder Music Hall near Bremen, just before they departed for some concerts in England.
This year they will perform at the Burg Herzberg Festival, the quintessential Krautrock gathering near Alsfeld (Hesse), Germany. (Press Release Nordwestradio)
To the delight of many vinyl collectors around the world all AGITATION FREE recordings of the early 1970's will be rereleased as LPs by theGerman label MIG (Made in Germany).
First available is their debut album "Malesch" – originally released in 1972. The critics called it a "classic of German prog rock, and as such is still absolutely worth listening to" and a "beautiful debut of the band that is among the best of Krautrock". "An interesting mix of psychedelic rock improvisations, electronic sound experiments, jazz rock passages and ethnic influences. A very dense, varied album with 'spacey' guitars and majestic keyboards, but also very rhythmic, jazzy passages "(babyblaue-seiten.de).
"Malesch" was remastered and re-released in 2008. This restored version now appears on vinyl …. And somehow the band – even in 2012 – feels a little proud about it.
After their celebrated gigs in Berlin and Paris, earlier this year, Agitation Free will perform their current album "Shibuya Nights" at the "MusicHall" Worpswede live on the 8th of November 2012. This concert will be recorded and broadcasted later by Radio Bremen/NordwestRadio. Further they are going to play at Manchester - "Moho Club" on the 9th - and London - "Jazz Cafe" on the 10th of November 2012.
We are happy to inform you that their debut "Malesch" (1972) will be re-released on vinyl by M.I.G.Music on 31st of august 2012 - "2nd" (originally released in 1973) will follow on 16th of october 2012.
Due to circumstances beyond their control, AGITATION FREE regret that their planned appearances at MOHO in Manchester on April 5th and The JAZZ CAFÉ in London on April 6th 2012 have had to be rescheduled to early November. Everyone involved would like to express their apologies for any inconvenience caused and would like to express their disappointment in having to reschedule.
The new dates are:
MANCHESTER - Moho - Friday 9th November 2012
LONDON - The Jazz Cafe - Saturday 10th November 2012
All tickets purchased will be valid for the rescheduled concerts and the band very much looks forward to performing for the first time in the UK later this year.
You play for us today?
The one and only gig featuring the original 1974 AGITATION FREE line-up in Germany… I couldn't miss the opportunity to experience this and went to Berlin on the 20th of March alongside my workmate Jens. I would say around 300 spectators came to enter the Fritz Club at Berlin Ostbahnhof.
They have almost played the same set list which was offered during their Japan tour in 2007, recorded for the live album 'Shibuya Nights' - however, back to the roots, even more psychedelic overall in my humble opinion. That means dominated by Gustl Lütjen's and Lüül's cool dual guitar interaction, seemingly ageless. Michael Hoenig cared for samples and the well-dosed electronic ingredients and Burghard Rausch as well as Michael Günther were responsible for the pressure and groove in many ways. This gig was something gripping really, unfortunately perceived as an affair way too short, running like lightning so to say, although topping with the Pink Floyd borrowed 'Interstellar Overdrive'.
If you have any chance to go to Paris, Manchester or London … it's worth it!
Uwe Zickel